I'm the FriendlyBoss over at the Ministry of Testing. The Ministry of Testing is a professional learning network. We've created a safe, inclusive, diverse and exciting community about all things testing.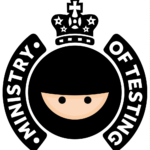 Ministry of Testing has too many initatives for me to list here, we're always starting new and innovative activitys to help us meet our motto, co-creating smarter testers.
My main focus at the Ministry of Testing is kind of an evangelist, trying to make more and more people aware of the fantastic work I believe Ministry of Testing is doing for the craft of software testing
Along side that, I'm very much involved with the organising and running of our conferences called TestBash. We currently have a TestBash conference in 5 countries and more being planned.
We then have The Dojo. The Dojo is an e-learning platform dedicated to software testing, and it's role within software development. We currently have 130+ conference talks on there, 50+ articles, many online courses and whole host of new material being worked on.
If you're interested in software testing and quality, I strongly encourage you to check out Ministry of Testing and subscribe to it's newsletter. You may feel I'm biased, but I was invovled with Ministry of Testing for over four years before working with them.
Ministry of Testing also have a 20+ meetups all over the world, so they're may be one near you. A great opportunity to meet testers and in your city.
I encourage you to check it out. We also have a vast network of meetups around the world and host numerous conferences on both sides of the pond, all our events are here.